All our Full Home Inspections come with Free Residential Warranties.
Pre-listing Inspections include a 120 day warranty.
Pre-purchase Inspections include a 100 day warranty.
These residential warranties cover structural and mechanical components found in proper working order at time of Inspection.
New! We Now Include a 100 Day Inspection Guarantee!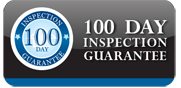 Free with Every Pre-Listing Inspection!